Your support is vital!
40 Hours for the Forty Acres is The University of Texas at Austin's annual university-wide day of giving. Every year alumni, faculty, staff, students, parents and friends come together for 40 hours to make gifts to the programs and places at UT that mean the most to them. Their support is especially important this year, as our students, faculty and staff work hard to thrive, adapt and grow during this unprecedented time for the university.
As a 40 for Forty Ambassador, you'll help us get the word out about 40 for Forty and ask your network to consider making a donation to support the people, places and programs you care about most. We know that people are most likely to make a gift when asked by a peer or friend. Your participation makes a huge difference.
What starts here changes the world and that starts with you. Sign up to be a 40 for Forty Ambassador and make a difference for UT!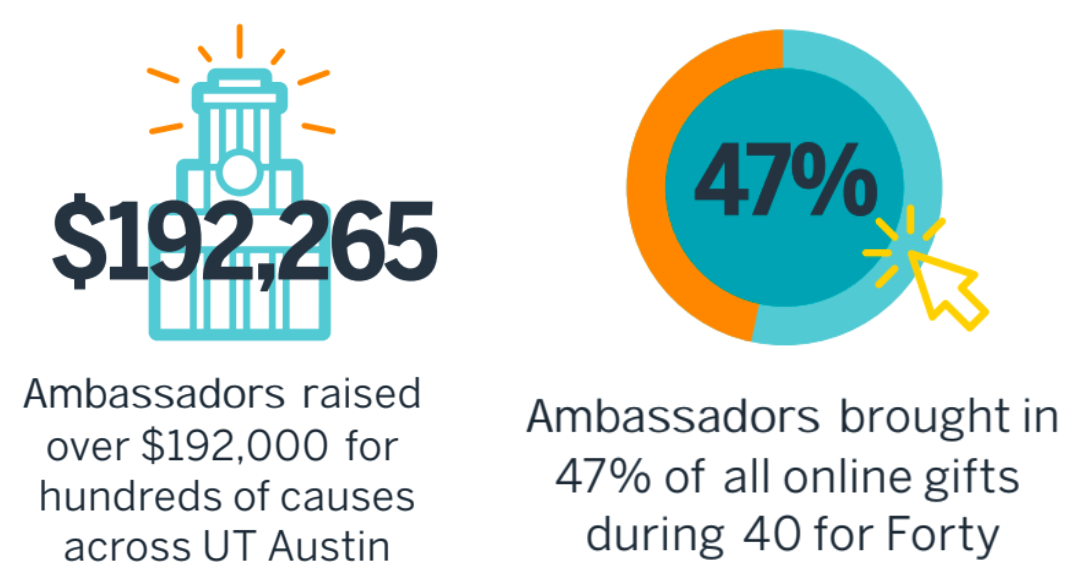 FAQs
What will I do as a 40 for Forty Ambassador?
Post on social media. This can be anything from sharing after you make a gift to posting a selfie.
Send personal messages. Reaching out directly to friends, family and peers can be the best way to get the word out.
Be a representative for your community. Above all, being an ambassador means showing your Longhorn pride and representing your UT community.
What will I get as a 40 for Forty Ambassador?
The chance to win challenges. You'll be able to win up to $3,000 for your favorite area of campus!
The knowledge that you made a difference. Nothing beats that feeling of knowing you made a difference for future Longhorns.